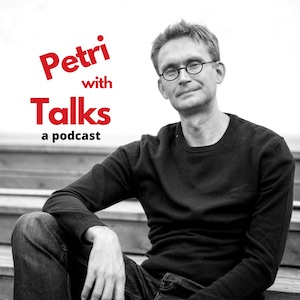 Talks with Petri -podcast helps startup founders and entrepreneurs to build their business by inspiring and sharing knowledge from other founders, thought leaders and people who are building the future.
The show explores personal stories and experiences with lessons learned. The international guests are building the future in culture, arts, business, economics, technology or they are having big ideas. The real talk conversations go deep but the tone is entertaining. The purpose is always to learn more and share the know-how with others.
If you like the podcast please leave a short review on Apple Podcasts (iTunes) or get me a coffee. You can also send me feedback and suggestions.
Subscribe: Apple iTunes | Google Podcasts | Spotify | Youtube | Breaker | Castbox | Deezer | Overcast | Pocket Casts | RadioPublic | TuneIn | RSS | Trailer☟