I'm always reviewing new products to increase my productivity and keep up-to-date with the latest, coolest and the best. Novelty is nice but many times the old ways and solutions are as good if not better. Therefore, you may find also classics!
The products and solutions are in various categories and include products that I have used and tested. There may be affiliate links where applicable.
I'm updating and building this page continuously so visit frequently.
Books
For non-fiction books, see my book review and recommended books sections.
Audiobooks and eBooks
Audible & Kindle by Amazon
Audible by Amazon is the biggest in the industry. They are especially good if you need to get the latest and most extensive catalogue of audiobooks. It may become expensive if you like to listen a lot. You can test and return titles in case you do not like the title. Audible will refund your purchase and use the credit for another title. Try Audible with a 30-day free trial get two free audiobooks.
Kindle is a classic choice for eBooks and it has many convenient features and cross-device support. There's a free 30-day trial available.
Flat-fee services
Scribd has become my favourite audiobook provider lately. They have a wide catalogue and they have a flat monthly free structure, which makes them predictable in cost. Even better, they have a referral program where you get an additional free month for every person you refer for a sign-up and they get two free months. Give it a try – no credit card needed for the trial.
Nextory, Storytel and Bookbeat are the Nordic flat monthly free book subscription services that are rapidly expanding. Their catalogues are expanding but so far they have not been a match to Audible or Scribd.
Productivity
Password manager, 2FA and security key
1Password has been my favourite password manager for years. There are differences in philosophy and way of building the solutions between different providers. I recommend studying carefully and understanding the differences before committing to any provider.
Yubikey hardens your security to another level. This is a good addition to your password management routine with 1Password. They are not interchangeable and serve different purposes. Security keys add a different layer of identification similar to one-time passwords that you can do with 1Password or Authy. Do not use text messages as a 2FA.
File-synch and storage
Sync.com is a Canadian cloud-storage provider that I use to synch my files between computers. It's also good for sharing local files with 3rd parties. It works also with mobile devices. This space is competitive but once again consider your priorities and whom you trust and why. The encryption methods are something you may want to investigate when comparing between different vendors. Try Sync and get 1Gb permanent storage boost to your account.
If you want to go DIY way, you can try your luck with Cryptomator, and combine it with Mountain Duck and CyberDuck on the Apple ecosystem. In this setup, you can use Google, Apple or any other cloud storage provider since you're encrypting your files on the client-side.
Calendar, scheduling and contacts
Apple's calendar and contact apps are relatively basic. I started using Flexibits' products Cardhop (iOS) and Fantastical, and that was a game changer.

For scheduling, x.ai avoids you to do email ping-pong and it makes rescheduling a breeze. The company was acquired and their service discontinued. Calendly gets the job done even though they are more limited in their offering. Cal.com is an open-source alternative that has many of the features of the Calendly's paid versions.
Messaging
For messaging, it's hard to get rid of WhatsApp due to it's wide usage but you could try to convince your network to use Signal.
Scanning
Mobile headsets
I have used many mobile headsets over the years. For over a decade Bose was my favourite choice with their Bose MIE2I Mobile headset (discontinued) and Bose QuietComfort 20 Acoustic Noise Cancelling Headphones that I still use for listening podcasts while running.
Update (11/2021): I started to get a lot of complains of using the AirPods Pro outdoors in the last year. Either it was a software update issue or the hardware just degraded. I even changed the units under warranty but the issue remained. They also stated to take a long time to connect and occasionally drop the bluetooth connection while on the call. I'm looking for a good headset for loud outdoors use (Jabra Elite 7 Pro is the strongest candidate for now).
For indoor use, I went old school: Beyerdynamic MMX 300. They work with iPhone out of the box as well as with traditional audio interfaces. The noise-cancelling is excellent together with more balanced audio signature.
Apple Airpods Pro
My daily headset was Apple AirPods Pro. I could not use the previous Airpods nor the wired standard version for they did not stay in my ears and they were leaking too much outside noise for proper use with traffic and other loud background noise.
Bose had amazing fit and there was no risk of dropping the earbuds, ever. This is pretty much the same with AirPods Pros. The biggest factor is yet the convenience. They work seamlessly with Apple products. No other bluetooth device has been as smooth and reliable with pairing. I missed most of the incoming calls due to connectivity delay with other headsets. Sorry!

These are no high fidelity devices but they work well with consuming audiobooks and talking to people indoors if you can stand the connection issues that re-appeared after one year of usage. I would not recommend them for recording audio (e.g. podcasts) nor talking outside with loud background noises.
Publishing
Content management systems
Website
This website is build on a self-hosted WordPress platform. Each use case is different but DIY gives the most versatile options. You can practically do whatever you can think of thanks to the large ecosystem.

My hosting is on Namecheap. I have tried numerous shared-hosting companies over the years. Most of the time you get what you pay for so more expensive services may results better service levels and products.

My domain-name hosting was on Namecheap for years. Now, I'm using Cloudflare. They don't add any mark-up but you cannot register a new domain with them, only transfer existing ones. Their offer a generous free plan for basic domain protection and performance needs among others. I have used them pretty much since they started.
Podcasting, video and live-streaming
Hosting
There are plenty of hosting providers for audio files. Anchor is my current choice. It's free (owned by Spotify) and have a decent basic offering. I'm not too content with their additional services since they are mainly US only. Redcircle is something I'm looking into but have not made the shift yet.

AWS is a solid option since it works with the byte-range requests feature that is required by Apple iTunes (allows to stream the file without downloading it entirely) but requires more technical skills to set-up and maintain.
Recording software
Zencastr has been amazing for doing podcasting recordings remotely. It records each audio source locally and saves them to separate tracks. It can do also post-production. They have a remote video recording, too. Riverside.fm is an alternative that has very competitive offer and some features that Zencastr does not currently offer (e.g. mobile recording).
Podcasting, video, and Clubhouse audio setup
I did some podcasting around the financial crisis. Ever since Blue Snowball served me well and I was using it for my podcast recordings for a few months in 2020.
I would consider checking also Blue Yeti that is a later model with some variants or Rode NT USB (or similar products from Rode). Don't go cheap on the mic, save on the headset or other parts of your setup if you're on a tight budget.
Above are condenser mics that have a nice tone but they tend to pick up other noises around your environment. Unless your room is sound treated dynamic mics can be a better option. For example, Shure's MV7 podcasting mic was released in 2020 and it does not require a separate audio interface but works with simply plugging in the USB-cable.
Shure's SM7B is the classic radio mic that many podcasters are using. For to drive it properly, you need either a Cloudlifter (or similar amplifier) or a powerful audio interface. Dynamic mics do not require phantom power (48v) but de facto preamp is often needed for driving them properly so you need additional equipment for your setup. Focusrite Scarlett 2i2 is a popular budget option but it comes with several limitations.
My current setup is Shure KSM8 and Sound Devices' MixPre-3 II for podcasting, video and Airchat (and Clubhouse) audio. The Clubhouse iPhone setup requires an additional adapter (Belkin 3.5mm audio + Charge Rockstar; test at your own risk – might not work in the future or with other variants of the same adapter) for iPhone to recognise the audio interface (add a 3.5mm cable to the plug but leave it unplugged from the other end; h/t for Garry Tan for discovering this) when you're a speaker in a Clubhouse room.
(If you would like to use Clubhouse with your computer you should try Clubdeck. I have been using it frequently. They product development and support is bar none.)
My audio headset is Sennheiser HD 660S but they are not optimal for recording because of their open back structure that leaks sound in louder volumes. They also require a slightly more powerful audio interface to drive them.
Editing and transcription
Descript is a software service for editing your audio and video files. It does transcription in English. No more direct audio wave editing even though Audacity is not a bad choice, and it's free.
Headliner makes your audio look good and they have a transcription service to make captions for your video awesomeness. The free tier is extra generous so no harm done by checking them out. My audiograms were done with Headliner.
In autumn 2021, I switched to a video and audio format in my podcast. My workflow changed. First, the audio is treated with Izotope products (e.g. RX) removing echoes and other distractions. The actual editing for both is done in Davinci Resolve Studio. The free version is amazing and it's more than enough to get your basic workflow working.
Services and music
For music licensing, I have been using Premiumbeat (with codeSELSDSAS you get 25% off your first track purchase). You could commission someone from Fiverr or Upwork to do custom music, jingles, transcripts, editing or other services for you as well.
Video conference setup
See the separate post where I go in detail with options and alternatives from audio, video, lights to other accessories.
iMac
I'm using an iMac (M1 2021) with a few screens. See the post for details.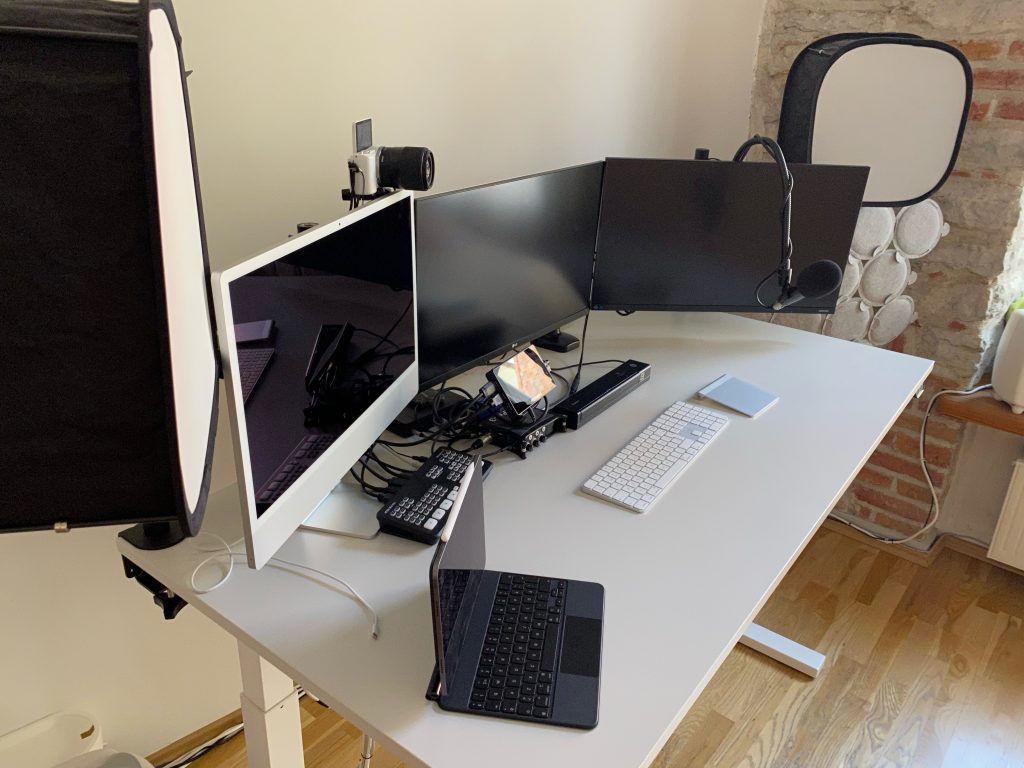 Misc
Event platforms
I have liked to attend Hopin events. It seems to be a good and familiar choice when organising generic business events.