Home office video conferences define your first impressions. How's your virtual habitus and setup from the viewers perspective?
Before you start to browse through video conferencing equipment it is good to stop and think what you are really trying to accomplish. It's always possible to upgrade and improve later and not everything needs to be perfect from the beginning.
Priorities
Audio
Without good audio everything else is for vain. It's a good practice to separate the input and output audio sources so they don't interfere with each other.
If you have a headset that is a good start. Even your phone's headset might work. Maybe you can connect that to your computer via Bluetooth? If you don't like the aesthetics of having a headset Apple iPod Pro's are relatively small but their audio quality is not good enough for high-quality presentations or productions.
A step-up is to have an external mic such as Blue Snowball (or Yeti), Rode NT-USB or similar.
If you're using an external mic that is not omnidirectional (e.g. cardioid) from its pickup you could even use external loudspeakers to hear the output voice in videoconferences. This requires a bit more advanced understanding and testing to work properly.
A more advance option would be to use a lavalier mic such as Boya BY-M1 or even Rode Wireless Go (+Lav). You can find my current audio setup here.
Lights
Lighting is for video what audio is for the overall experience. Even if your camera is not exceptional most of them work good in well-lit environments.
This is the easiest way to improve your video quality. You could start with your existing lights and even crank up the backlight of your computer screen to illuminate your face better.
External lights range from small devices such as Aputure AL-M9 or YONGNUO YN300. Ring lights are another option too but just be aware that the ring reflection in the eyes is rather distinctive.
When you're getting more serious with your setup it becomes evident that it's good to have 2-4 external light sources that have the same colour temperature and are adjustable for your needs. This is where LED-studio lights become handy and there are relatively cheap options (such as Neewer's kit) to accomplish the basic needs.
When you're using a green screen (e.g. Elgato Green Screen) or other backdrops then shadows and uniform illumination become more important for a better overall outcome.
Camera
Almost all mobile phones have high-resolution cameras that are better than your computer's built-in equipment. As you should not use the internal mic in your computer it's a very good idea to get an external camera.
The cheapest option is to use your mobile phone as a stand-alone camera or as an external camera for your computer. For example, Kinoni offers software drivers and apps that turn your existing mobile phone into a webcam that your video conferencing software recognises.
If you add a small tripod (e.g. Manfrotto PIXI Mini) or other mechanisms to adjust your mobile phone angle that is a considerable improvement. Notice that usually the best recording angle is where the viewer perceives that you're at their level.
Recording from a below angle projects authority and power but also may show up some qualities such as double chin that may not be your best angles. Setting the camera higher makes the presenter look smaller and diminutive. A neutral cam angle makes you more approachable and friendlier.
An external webcam is a step-up. Logitech C910 and its upgrades have been the popular choice for many years.
An external cam frees your mobile phone to other uses and it is definitely a better option than your built-in cam if not for anything else than the fact that you can adjust the angle more freely.
If you are wondering how to get an awesome blurred background (or bokeh effect) then you're entering in the world of lenses. This is an endless topic itself but you can start small and upgrade later when your understanding and budget allows the improvements.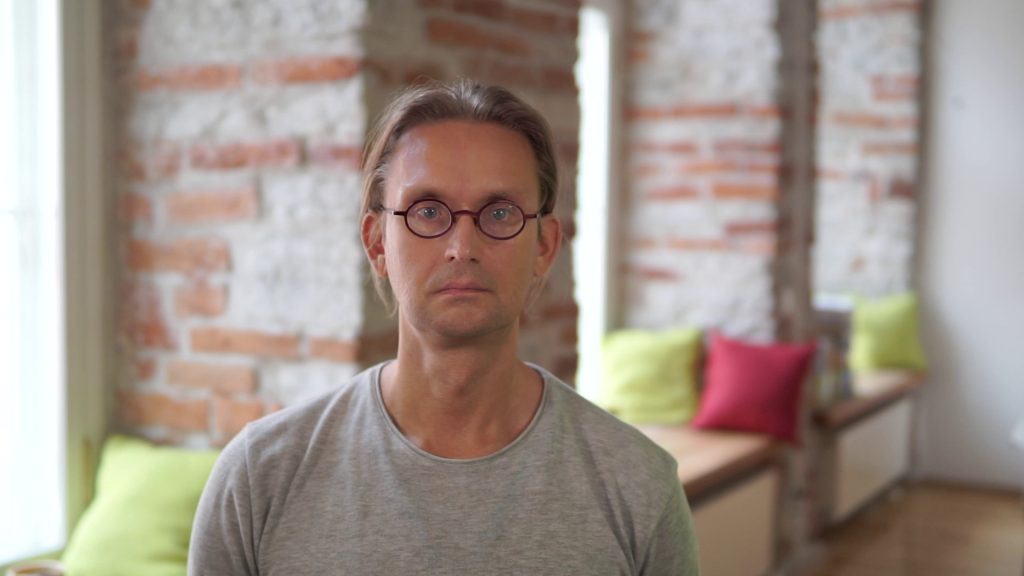 Mirrorless cameras are inexpensive and with interchangeable lenses the options for improvement become almost limitless. You could start by getting a cheap mirrorless camera such as Sony A5100 or A6400. It's a good idea to start with the basic lens kit (e.g. 16-50mm in Sony's case) that allows you to experiment before committing serious money to other lenses.
For the desired bokeh effect you need to understand your studio setup, limitations and budget. A Sigma 30mm F1.4 lens is a good start but keep in mind that there is no zoom (but there is auto-focus) so your video framing needs to be considered carefully. Lenses cost easily even more than the camera so it's better to tread slowly first. Not all lenses mount to other cameras but often you can find adapters. Make sure you are buying the right type of lens before hitting the purchase button.
How do you connect your mirrorless camera to your computer? Some of the camera manufacturers have USB-webcam drivers so it is as simple as plugging in the cable to your camera and you're good to go. However, this is not evident and obvious so you need to double-check that.
Another factor to keep in mind is that if you have an older camera or you're not sure whether your camera outputs clean HDMI video signal without any display information this can be a deal-breaker for your video feed. Especially, older cams do not have the option to turn-off display info options for HDMI output.
For older cameras with HDMI output and without a USB-webcam driver you can use a hardware converter such as Elgato HD 60 S or even more advanced options such as Atem Mini (Pro) (ISO).
Atem Minis take two audio inputs and four separate HDMI signals in. This allows you to do more advanced operations such as screen sharing, mix two video streams together either to show a screen sharing and camera or two cam sources at the same time (picture-in-picture). Also, audio level mixing, adjustment and advanced controls enable to use EQ, compressors, limiters and other tools that may become handy later when you become aware of other issues to improve (e.g. echo, audio levels, background noise, mixing or adjusting two separate audio sources).
Monitoring your video output is a good option when you're presenting or recording something of high value. It allows you to check that you're sending the right video feed, your audio sources are working among other things. I'm using a small 5,5″ video monitor that can be used for mobile setup as well.
Accessories
A green screen (or chromakey) enables you to control better the overall visual appeal and experience. This also allows you to standardise the environment and the look when the physical environment may change or go through adjustments.
Zoom allows to use your own green screen but you can also control the overall video feed with external devices (such as Atem Mini) or software such as OBS that is an open-source alternative. Alpha channels are used to add layers to the feed such as logos, lower thirds and other elements to the output video feed. There are so many ways to make your feed customised that it's easy to get distracted with possibilities. If you want to find some inspiration I suggest you head to Twitch and visit some popular gaming or chatting channels for ideas.
The more experience you gain you start to pay attention to more refined issues such as the environment with background noises, echo and other artefacts that disturb and distract the overall experience. These may require physical changes to your environment such as acoustic paneling or soundproofing.
Also having the ability to move more freely, change camera angles and view the other participants in a videoconference in a larger screen(s) are something to consider as well. We are spending many hours talking to people who are not in the same room so why not make it as pleasant as possible? A single skipped business trip or conference can fund a long way towards your home office videoconferencing experience.
How much does it cost?
You can start for free with what you already have and make it to work first. From a few hundred to a few thousand euros can give you a setup that serves you well for years. Just keep in mind that the most important thing is not the looks but the content and the context. We are also entering the AR/VR era soon and then the whole setup will change again and become more immersive with new challenges and opportunities.