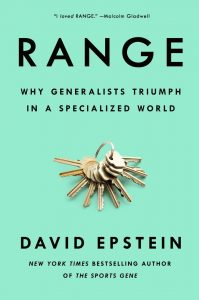 Our world is not very kind and predictable. It is full of wicked problems and outcomes where causation may not be observable for us. This makes learning from our actions difficult. There are simply too many variables and time delays may be too long.
Yet, one of our greatest gifts is our ability to adapt to new circumstances and situations. We do not need predetermined models and patterns to interact with our surroundings.
On the other hand our tech is leapfrogging in the field of pattern recognition. Machine learning with proper data can already outperform humans in narrow specialised fields. Some sports and games are examples of kind domains where the rules are clear and the surroundings are predictable.
We are using pattern recognition in our learning. Chunking data together makes our actions faster and easier no matter whether we play golf, study languages or drive a car. An amateur can be distinguished from a master by the amount of practice. The sample size is larger, or different.
Hyper-specialisation has its dangers. When reaching into depths the field of view often narrows. It's getting harder to see the inter-linkages and solve wicked problems that require different approaches. That's why we see outsiders solving challenges that industry insiders consider insurmountable.
There is a tendency to prefer quick specialisation and stick to ones trade. In a way one is required to reduce uncertainty and have the answers before actually diving in. This is prevalent in science as well as other domains like business and education.
Data points are easy to understand and measure. Quantifiability gives a sense of control and security. Common sense and reasoning are fuzzier and have less contrast. They require value judgement and range of experience to be appreciated.
Range refers to wide and broad reach. Seeing connections and similar patterns in different fields help to solve problems and excel in new areas or even in one's own field of expertise.
Very successful individuals tend to have multiple interests and activities outside of their main focus. Darwin and Einstein are good examples but you don't need to be a genius or polymath to reap the benefits. A curious mind finds always unsolved puzzles and areas to master.
The path to great discoveries and success is not always paved with grit and specialisation. Generalist may be slower in life to bloom but more weird and wicked their world become the better they tend to perform compared to specialist. They simply have more varied repertoire of experience and data points to match for the new circumstances.
Everybody's path is different and specialisation is just one way to reach to your destination.
A Finnish review published in Talouselämä.