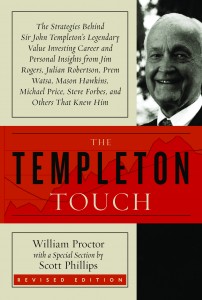 John Marks Templeton mainitaan usein Warren Buffetin ja Peter Lynchin kanssa suurimpien sijoittajalegendojen joukossa.
Sir John, kuten häntä kirjassa kutsutaan, oli poikkeuksellinen yksilö monellakin tapaa. Hänet yhdistetään usein globaalin sijoittamisen edelläkävijäksi.
Templeton sijoitti Japaniin jo 1950-luvulla, kun Japani oli vielä hyvin sulkeutunut yhteiskunta, joka ponnisteli jälleenrakentamisen parissa. Templeton toimi myös hyvin poikkeuksellisesti 1987 pörssiromahduksen mustana maanantaina – hän keskittyi ostamaan. Samoin teknokuplan aikana hän myi lyhyeksi kuplaosakkeita suurilla voitoilla.
Templeton oli monipuolinen sijoittaja, jonka oppi-isänä toimi arvosijoittaja Ben Graham. Sir John poikkesi tyypillisestä Wall Streetin sijoittajastereotypiasta myös henkilökohtaisilta ominaisuuksiltaan. Häntä on kuvattu hyvin nöyräksi, mutta avoimeksi ja sosiaaliseksi. Äärimmäisen ahkera ja tuottelias Sir John oli myös hyvin kurinalainen.
Henkiset arvot olivat hänelle tärkeitä – hän omisti merkittävän osan ajastaan ja varallisuudestaan hyväntekeväisyyteen. Hänen perintönsä elääkin Templetonin nimeä kantavassa miljardisäätiössä, joka tukee tiedettä ja tutkimusta sekä jakaa Nobel-palkintoon verrattavaa Templeton palkintoa. Palkinnon saajien joukossa ovat muun muassa Dalai Lama ja Äiti Teresa.
Templeton on vähemmän tunnettu kuin Buffett tai Lynch, ja hänestä on saatavilla myös vähemmän tietoa.
The Templeton Touch onkin avain hänen ajatteluunsa ja näkemyksiinsä, mutta valitettavasti kirja ei ole laadullisesti lähelläkään esimerkiksi Buffetista kertovaa The Snowballia. Henkilökohtaiset kertomukset ja tarinat Sir Johnin elämästä ovat kuitenkin lukemisen arvoisia ja saattavat kannustaa tutustumaan sijoittamiseen uudesta näkökulmasta.
Arvio on julkaistu Talouselämässä.